The beauty of Corfu Greece:
Greece has many beautiful islands, but few compare to the pristine paradise of Corfu. Her rough nature, out of this world beaches and the people who live on the island. The moment your plane starts descending above Corfu, it all becomes clear:
Corfu is a beauty.
Are there sandy beaches on Corfu?
Yes! Corfu has many sandy beaches, up to 50! We will adress the most popular ones below.
The sandy beaches of Corfu are: Acharavi,Agios Georgios, Agios Spiridion, Arillas, Canal d'Amour, Peroulades, Roda, Sidari, Glyfada, Paleokastritsa, Pelekas, Pirgi, Yaliskari, Agios Georgios, Agios Gordis, Agios Gordios, Alikes Lefkimmi, Alonaki, Bouka, Gardeno Vitalades, Halikounas, Kavos, Molos, Paramonas and Prasoudi.
The sandy beaches in the north
The best known sandy beaches in the North are:
Acharavi
Agios Gorgios
Agios Spiridon
Arillas
Canal d"Amour
Peroulades
Roda
Sidari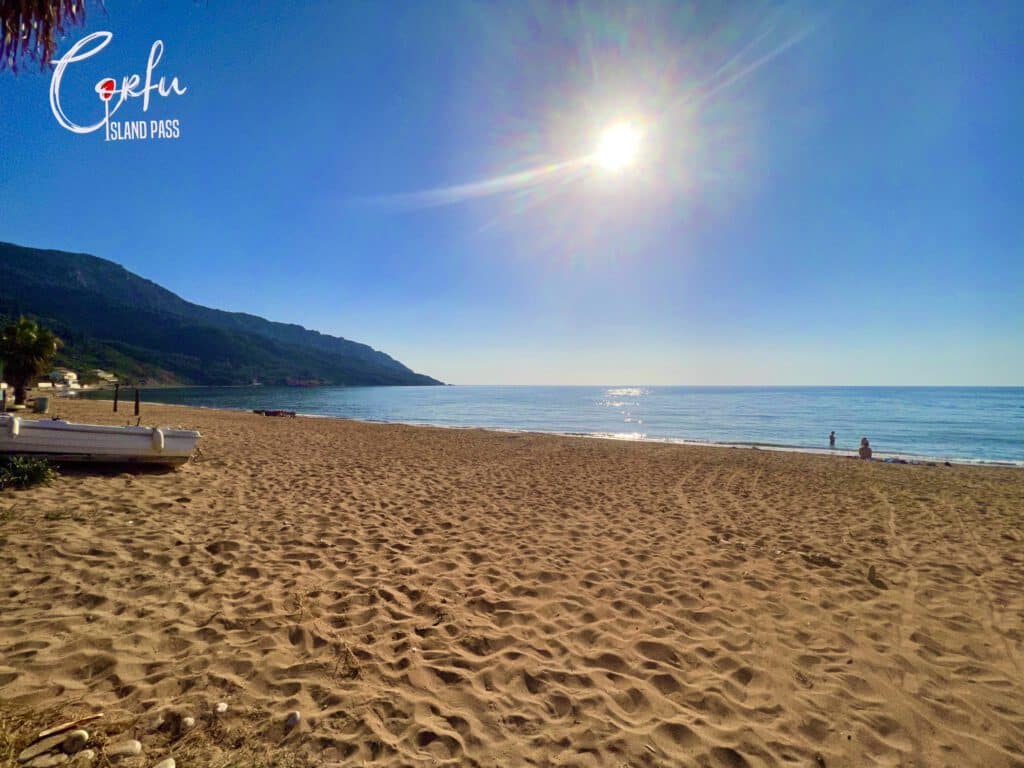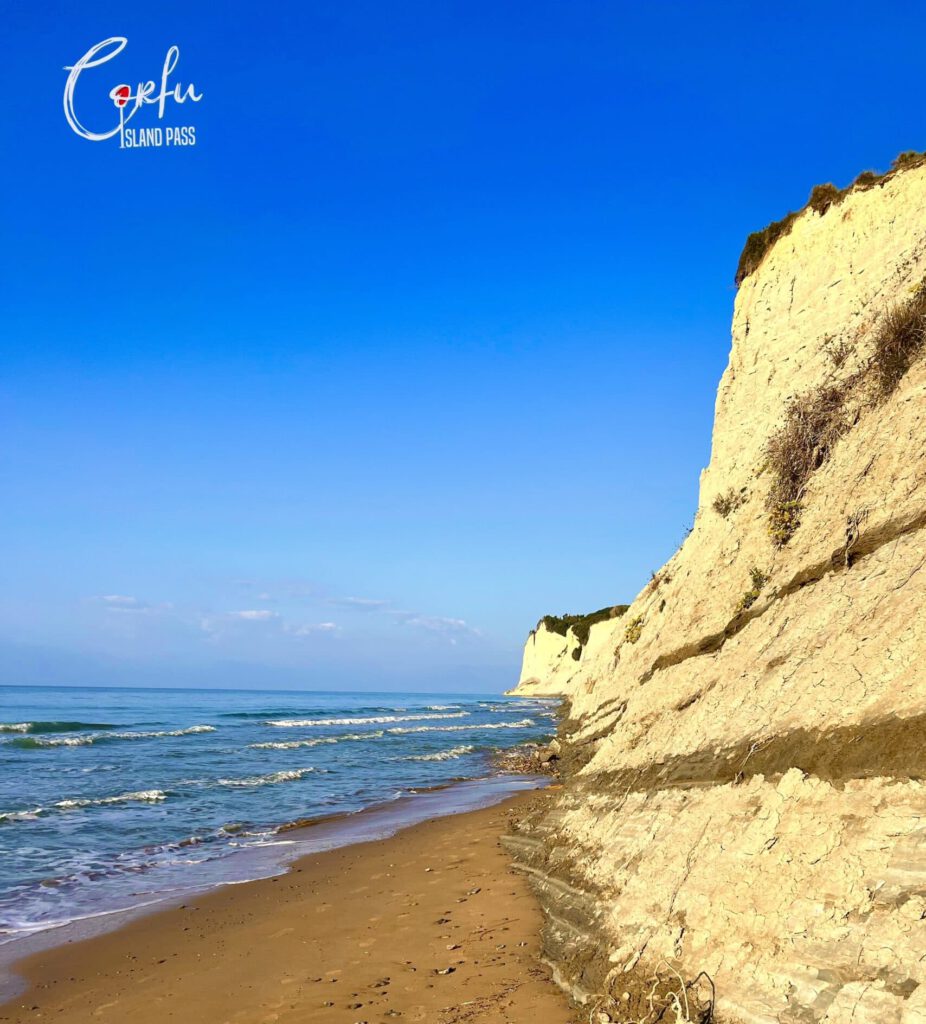 The sandy beaches in the middle
On the east and west coast of Corfu, above and below Corfu Town, and from Barbati (East Coast) till Agios Gordis on the West coast we call the middle part of Corfu.
The best known sandy beaches of Mid Corfu are:
Glyfada
Paleokastritsa (sandy and pebbles)
Pelekas
Pirgi (sandy and pebbles)
Yaliskari

The sandy beaches in the south
In the South are relatively many sandy beaches
The best known sandy beaches in the South of Corfu are:
Agios Georgios (Agrirades)
Agios Georgios (Pagon)
Agios Gordis
Agios Gordios
Alikes Lefkimmi
Alonaki
Bouka
Gardeno Vitalades
Halikounas
Kavos
Marathia
Molos
Paramonas
Prasoudi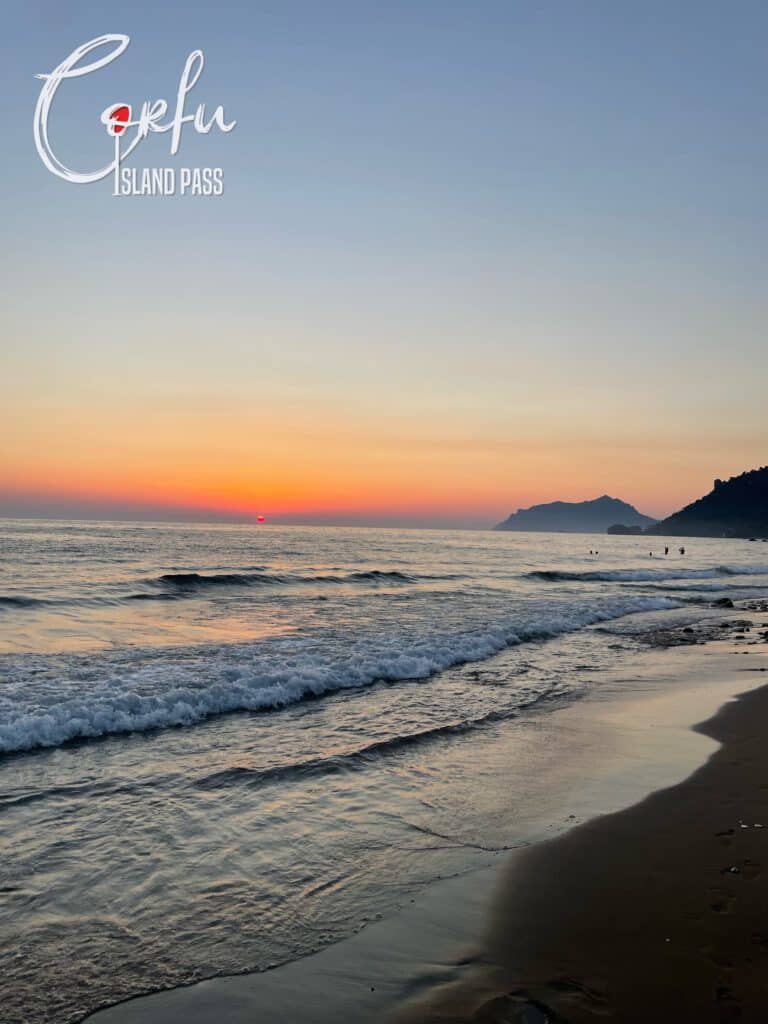 What is the prettiest village of Corfu?
The prettiest village is Afionas.
Everybody describes Afiónas, near Portotimoni as the most quaint and pittoresque village of Corfu, another beautiful village is Pelekas. Pelekas is situated around 11 km. west of Corfu Airport.
Afiónas is one of the oldest villages, named after a type of grape which only thrives on Corfu.
Popular places to stay are: Corfu town, Gouvia, Ipsos, Paleokastritsa, Sidari, Pelekas, Glyfada, Kassiopi, Barbati, Moraitika, Benitses and Kavos
Staying in North Corfu
Every town is amazing and each has it's perks. When you stay near Corfu town you can get easily around the island by bus. Gouvia is more upcoming by young people these days, it has a nice beach (pebbles) and great restaurants, bars and a nightclub.
Ipsos is known for the boulevard with clubs, restaurants and shops, on one side and a long stretched beach on the other.
Paleokastritsa is one of the most popular places to stay on the island, quite unique with different bays and a harbour where you can plan different activities and hire a boat for a day if you want to. Just before Paleokastritsa is the La Grotta Bar with her famous steps all the way down, there is even is a diving board placed on the top of a rock. Great for pictures!
Sidari and Kassiopi are on the nort east side, where Kassiopi is a typical harbour village where the nost restaurants are situated ans Sidari is more touristic and busier. Both have great beaches where Kassiopi has a pebbles beach and Sidari a combination of sand and pebbles.
Pelekas and Glyfada are on the west coast , 30 min. below Paleokastritsa, and have similarities, they both have sandy beaches, and are in close proximity of eachother but Pelekas is slightly safer for young children because the beach is not steep and there is kneedeep water the first meters. If you are not used to driving in mountains than the drive up to both villages could be a bit stressful. The roads are not well maintained and quite steep.
Staying in South Corfu
Further to the south, on the eastcoast, we find Benitses, an old fishing village with a harbour and a beach. The town has all the amenities you need. Just a 20 min. drive to Corfu town and 30 minutes to the most southern part of Corfu ( Kavos)
Just under Benitses is Moraitika, close to Messonghi. Both Moraitika and Messongi have good disabled acces and Moraitika even has a "Blue Flag" beach.
Young couples and groups who love the nightlife would have the time of their life in Kavos (South).
At walking distance to the sea, with amazing beaches, Kavos has it all for you. There are  bars and clubs, which will keep you up all night long.
Due to the extreme nightlife in Kavos, it's not really suitable for (young) families.
Is Corfu Town worth visiting?
A visit is a must when you are on the island.
Corfu town has a rich cultural history. The Venetian era from 1386-1797 left her marks all around the city. Surrounded by the sea, you can't miss the Old Fortress, a unique defence landmark of Corfu. All over town are monuments, museums, a fresh market and don't miss the narrow streets of Corfu old town.
Never forget to pack your essentials anymore. Here is an easy printable travel packing list for you.
Because half the fun of a holiday in Greece, is packing for it!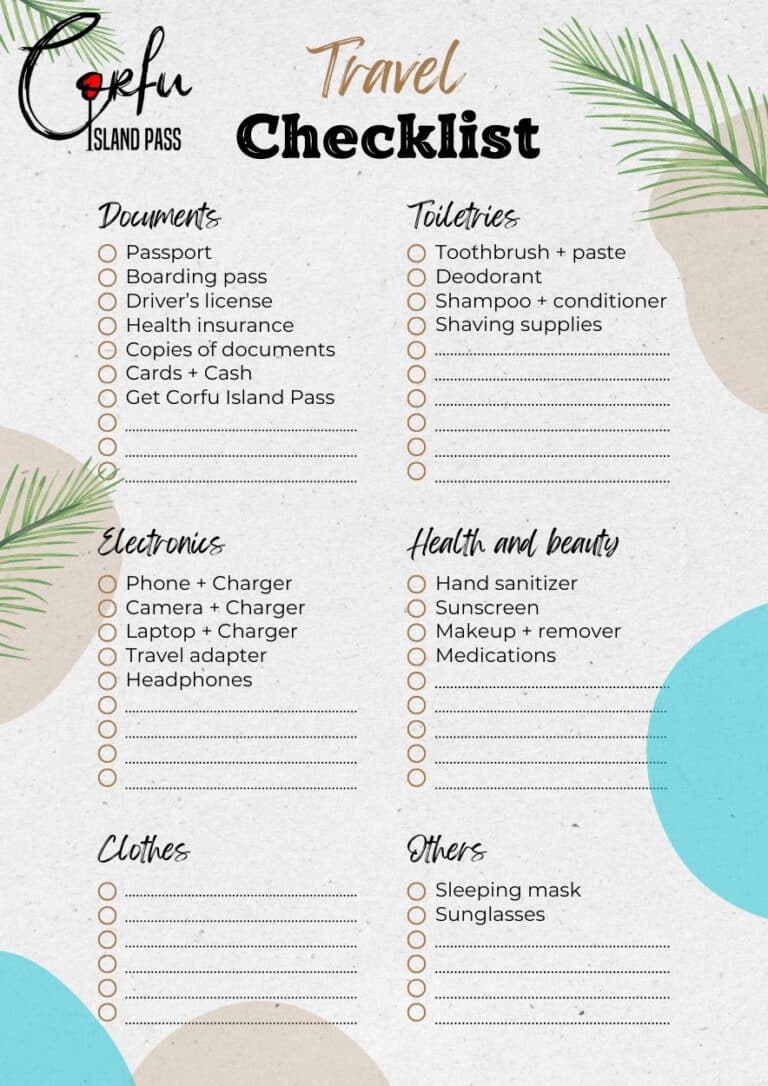 Interested in knowing more about the island? Our newsletter gives you even more information! You can subscribe here